SharePoint Intranet/Extranet Development Solutions
Enaviya's proficiency to include SharePoint enterprise portal and its solutions is to help remodel the way people and corporations work collectively through acquainted and pervasive workspaces, portals, and rising social computing abilities throughout functional business areas.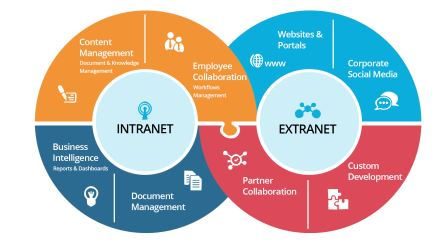 Enterprise Portal can be configured to display role-specific home pages that are called Role Centers. Role Centers provide an overview of information that relates to a person's process function in the commercial enterprise or business enterprise. This Information is like alerts, links, data and common tasks that are associated with the user's role in the organization. These reports are generated by tools like SQL Server Reporting Services or Microsoft SQL Server Analysis Services.
Enterprise Portal uses multiple safety features to restrict data and records get admission to only users who've been granted permissions via the Microsoft Dynamics AX administrator can view statistics, information, data, or sites. The following are benefits of that our client can gain through the enterprise portals:
Users can easily search for documents and content
Users can input complicated search criteria and find specific documents quickly and without problems.
A Portal that has content and documents consistently organized throughout the company
A Portal where all files stay with properly implemented version control systems to manipulate what the most