SharePoint Intranet/Extranet Development Solutions
Enaviya's proficiency to include SharePoint enterprise portal and its solutions is to help remodel the way people and corporations work collectively through acquainted and pervasive workspaces, portals, and rising social computing abilities throughout functional business areas.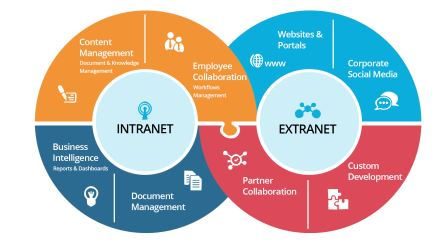 Enterprise Portal can be configured to display role-specific home pages that are called Role Centers. Role Centers provide an overview of information that relates to a person's process function in the commercial enterprise or business enterprise. This Information is like alerts, links, data and common tasks that are associated with the user's role in the organization. These reports are generated by tools like SQL Server Reporting Services or Microsoft SQL Server Analysis Services.
We are providing following intranet deployment services
SharePoint server 2013, 2016 or 2019 (On-premises)
SharePoint Online (Cloud)/Office 365
Migration SharePoint 2013/2016/2019 to SharePoint Online/Office 365
Third-party Platform migration to SharePoint on-premises or SharePoint Online
Redesigning of intranet to custom web parts or digital environment
Enterprise Portal uses multiple safety features to restrict data and records get admission to only users who've been granted permissions via the Microsoft Dynamics AX administrator can view statistics, information, data, or sites. The following are benefits of that our client can gain through the enterprise portals:
Users can easily search for documents and content
Users can input complicated search criteria and find specific documents quickly and without problems.
A Portal that has content and documents consistently organized throughout the company
A Portal where all files stay with properly implemented version control systems to manipulate what the most
SharePoint Intranet Services Offering
SharePoint Intranet Consulting: Our intranet consulting services provide on various SharePoint challenges which includes intranet deployment, user adoption, content governance or performance.
Intranet Architecture design: We implement the stable business performance, structure storage and easy access of content that ensure error-free. We design feature-rich and user friendly UI/UX.
Intranet customization: Our SharePoint intranet custom services align features with organizational structure.
Intranet support and maintenance: We ensure smooth operation and reliable security for the SharePoint intranet, and provide training assistance to SharePoint administrators and end users to help them understand the solution.
Frequently Asked Questions
What are benefits of Using SharePoint for Intranet?
Corporate or organization required intranet to improve effectiveness and encouraging innovation. SharePoint intranet on-premises solution provides own customise infrastructure, management and support that develop seamless communication between employees, effective, control the access and security of documents management.
What are the primary components of an enterprise intranet portal?
The primary purpose of an intranet to automate workflow, project and task management, central place to store and manage the document, delivers flexibility and productivity, integrate with the business that are in multiple location, easily connect with the employee, news and knowledge sharing.
SharePoint Deployment Solutions
Intranet Deployment
Our expertise in SharePoint intranets deployment services provide feature-rich enterprise communication that across locations and devices. We build custom hub sites, mobile-friendly that provide assistants of employee engagement, knowledge sharing through blogs with productivity features.
Extranet Development
We build extranet B2B and B2C portal for businesses interaction solution with partners and customers that pack with features such as secure content exchange, research, communication and reporting for external users.
Document Management
We streamline well-structured enterprise processes solutions to delivers document exchange, make it 24/7 easily manageable and accessibility for remote or in-house employees.
Learning Management
We create custom learning management system to result driven learning program that ensure multi-format learning materials, easy collaboration between learners and tutors within their SharePoint deployments.
Knowledge Management
We help organizations to build dedicated knowledge management solutions that power of corporate knowledge through forums and discussion boards, corporate wikis and knowledge focused centers for extensive search.
SharePoint AI & MR
We implement intelligent content management with mixed reality and AI capabilities that provide technical assistance of data analysis, content search and immersive collaboration in SharePoint spaces.