Outsourcing/Offshore Software Application Development
For years, Enaviya has strived to be and has succeeded in being a client-centric organisation. We are a dedicated team of professionals who have made it our goal to serve you better in software & application development. For us, presenting you with software development solutions and services you require for a profitable business and some more is not just a directive; it's how we do business.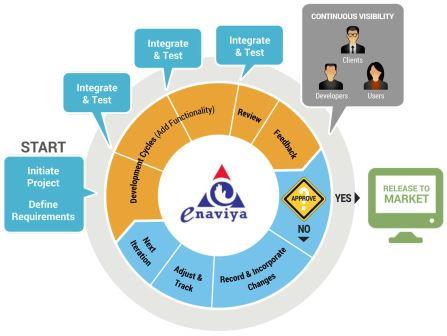 To equip ourselves better in order to handle your requirements more efficiently, we have identified a few centers of excellence and set up knowledge banks to gain exhaustive familiarity with various fields of technology we will need.
Enaviya's Centers of Excellence (CoE) is constantly tracking the technological advancements in the relevant fields and also following the developments and trends in the global market closely so that we are always ahead in the IT world. We aim at infusing our knowledge into your sphere of industry not only to provide you with IT solutions, but also to expand our knowledge base in order to drive strategic alliance.
Enaviya believes in reduced time delivery of solutions. To fulfil this, we design, develop and maintain all our services such that the components, methodologies, techniques and frameworks can be re-used for faster and high quality services.
Offshore Outsourcing Software Development Services
We have 14+ years of experience to provide wide range of offshore outsourcing software development services with proven methodologies. Our expertise developer team is successful delivering customized software development solutions to our client in 20+ countries. As we are most preferred offshore outsourcing software company in India, also help you to eliminate risks, operational overhead and reduce complexities in custom software application development.
Custom Software Development
We deliver quality custom software that is better optimized and highly efficient. Our dedicated team help you to customize the existing application with new features, performance improvement to streamline your business operation.
Digital Transformation
We develop new or modify existing software on latest digital technology that meet customer experience and market requirement. Modernize the architecture of on-premises for software application to keep you ahead of competition.
Legacy System Upgrade
Our experience developer provides system upgrade services of existing software to increase efficiency and integration of enterprise application, process redefinitions and data migration with the emerging technology.
IT/Software Consulting
Our technology expertise dedicated IT/Software consultant guide the best possible solutions to your organization that will help to reach business goals by taking right decisions.
UX/UI Design
Our front-end developers build interactive UX/UI design provide enhanced performance, effective navigation, SEO friendly responsive interface using HTML5, CSS3, Bootstrap, Angular JS and latest JS frameworks that delivering better user experience.
Enterprise Application Development
Our offshore outsourcing development services provide enterprise application development solution and build effective EHS Software, document management, finance management, data management and much more.
Web Applications Development
We develop high quality web application which includes enterprise system, web portals, e-commerce, enterprise web application and industry specific business application.
Android App Development
As a leading offshore outsourcing android application development company using latest android SDKs to creating quality android enterprise app, game, media application and many more.
iOS/iPhone App Development
We help company to developing customized iOS application meet the next generation customer requirement. Our elegant designing and advanced SDKs build better connection with their customers.
Cross-platform Development
Our cross-platform application developers have gained extensive expertise in the creation of apps using React Native, Cordova, Unity and Xamarin.
Microsoft .NET Development
We deliver rich and modern application using Microsoft .NET Framework that empower your business in affordable cost.
SharePoint Development
Our SharePoint development and consulting services help your organization to build highly reliable customise software that improve business efficiency.
E-commerce Development
We highly expertise web developers help you to create custom e-comerce web application for your business to effectively handle your online store and reach to global customers.
AngularJS Development
Our reliable team of dedicated developers provide AngularJS design and development services to help business to create enterprise web application, mobile app and cross-platform application.
Software Product Development
We are an offshore outsourcing software development company provide quality services to create custom software development, architecture solutions, UI/UX design , QA & Testing, support and maintenance.
Cloud Computing Platforms
Leverage our expertise in cloud platform services to develop ERP application on Amazon Web services (AWS), Google Cloud and Microsoft Azure.
QA and Testing
We are carrying QA and software testing specialty service including test case design, test planning, fictional decomposition, requirement verification and quality analysis to support your business to bugs free application.
Support and Maintenance
We have dedicated support team provide comprehensive solutions of product enhancement/configuration and unburden your business of costly maintenance of existing software and application.
Technologies Expertise in Offshore Outsourcing Software Development
| | |
| --- | --- |
| Web Applications | SharePoint 2016/2019, Microsoft .NET (C#, VB.NET, ASP.NET, WPF, WCF, ASP.NET MVC) |
| Cloud | Microsoft Azure |
| Embedded Systems | VC++/MFC/C++ |
| Mobile Applications | Android Application, iOS/iPhone App, Native App, Hybrid Application |
| Data Access | ADO.Net, LINQ, Data Access Layer |
| Storage | SQL Server 2014, SQL Server 2016, SQL Server 2017, MYSQL |
| Website Development | PHP, WordPress, Drupal, JavaScript |
| Reporting | SQL Server Reporting, Data Integration, BI Dashboard |
| Web Design | HTML5, CSS3, AngularJS, Bootstrap |
Advantage of Our Offshore Outsource Software Development
Highly Skilled IT Professionals: Our highly skilled IT professionals like software consultant, business analysts, project manager, senior level developers, QA and Testing engineers provide top-notch software application development solutions.
High Quality: Our internal quality management system builds seamless application with high quality coding standard that suite of your organization and reduce maintenance cost.
Flexible Approach: Our consultative approach gives attention to your business requirements and welcome opportunity to provide innovative software solutions.
Risk Minimization: Our offshore outsourcing proven software development processes minimize the operation overheads, reliable and long term technology partnership.
Cost Efficiency: Our offshore outsourcing software development services effectiveness and efficiency in term of high quality and long-term maintenance prospective.
Agile Development Processes: Our agile development practice the provide specifics on software development process that includes identified priority, team work review, daily meetings, strategies and development status.
Frequently Asked Questions
Where do you offer your software development services from?
Founded in New York, Enaviya is a rapidly growing software development company operation from Bangalore, India. Premier "market focused" IT Services, serving business and technology enterprises. Clients range from Fortune 500 to medium and small enterprises. 100 active clients served; 98% repeat client's year over year.
How are the meetings/updates managed for overseas clients, particularly where the time gap is substantial?
We provide customers with detailed access to our project management application and ensure schedule of daily/alternate-days/weekly meetings over Skype / Phone calls as needed. We can work at different hours, if necessary outside of our daily work schedule.
How can I access and manage my offshore team?
Without any layer of third party control, you will have direct access to your offshore developers.
What's the advantage of collaborating with you over other offshore development companies?
Being one among the best offshore software Development Company in India, work on effective and agile approach that emphasize technology collaboration, bring cost-effective offshore IT services, flexibility, improvement and high-quality results.
How long you are in the IT Outsourcing/offshore business?
We are bridging the gap between business and technology since 2006.
Where your clients are from?
We are providing services over 20 countries across the world which mostly includes US, Canada, Gulf, Europe and Australia.
What is the focus area for your business?
Small and medium-sized enterprises (SMEs) from all over the world are looking for production of quality web & mobile applications, software development and management software.