Outsourcing/Offshore Software Development Services
For years, Enaviya has strived to be and has succeeded in being a client-centric organisation. We are a dedicated team of professionals who have made it our goal to serve you better in software & application development. For us, presenting you with software development solutions and services you require for a profitable business and some more is not just a directive; it's how we do business.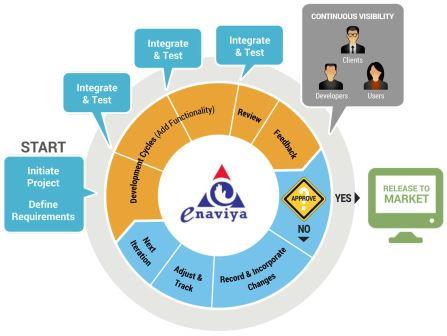 To equip ourselves better in order to handle your requirements more efficiently, we have identified a few centers of excellence and set up knowledge banks to gain exhaustive familiarity with various fields of technology we will need.
Enaviya's Centers of Excellence (CoE) is constantly tracking the technological advancements in the relevant fields and also following the developments and trends in the global market closely so that we are always ahead in the IT world. We aim at infusing our knowledge into your sphere of industry not only to provide you with IT solutions, but also to expand our knowledge base in order to drive strategic alliance.
Enaviya believes in reduced time delivery of solutions. To fulfil this, we design, develop and maintain all our services such that the components, methodologies, techniques and frameworks can be re-used for faster and high quality services.
Software/Application Development Services
Enaviya's Microsoft Dynamics Centre of Excellence (CoE) can help you:
IT/Software Consulting
Web Designing
Custom software Development
Mobile Application Development
Software Maintenance, Enhancement and Supports
Dynamics CRM
Legacy Application Modernization or Migration
Software Testing
Technologies Expertise
Web Applications: SharePoint 2013/2016, .Net (C#, VB.Net, Asp.Net, WPF, WCF), Microsoft Azure, PHP/Mysql
Embedded Systems: VC++/MFC/C++
Mobile Applications: BlackBerry/iPhone/Android Apps.
Data Access
ADO.Net, LINQ, Data Access Layer
Storage
SQL Server 2014, SQL Server 2016, SQL Server 2017
SQL Server Express 2014/2016 Edition
MYSQL
Open Source Software & Tools
PHP, WordPress, Drupal
JavaScript, AngularJS
Bootstrap, HTML5, CSS3
Reporting
SQL Server Reporting Services
We focus on control libraries, engineering tools and reusable software components to bring high-quality software applications to market faster and smarter.
Third Party Control Libraries
Infragistics, Telerik, Dundas, Syncfusion, ComponentOne