Business Intelligence [BI] Services & Solutions
In today's fast moving world, data crunching is one of the biggest challenges that businesses face. Businesses need better insights into the data they churn out on a daily basis. Business intelligence aims to provide you with the information at the right time and format so that you make decisions with confidence for better business outcomes.
Enaviya offers excellent business intelligence services which are designed to provide the company with a wide range of analytic capabilities. We work hard so that your executives have all the relevant information they need to develop your company par excellence.
Why Business Intelligence Services with Us?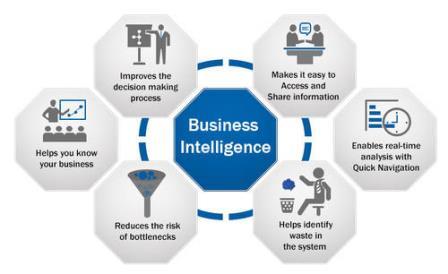 When your business is still in its initial stages, putting all the data into spreadsheets will get the job done. But once it starts to grow, your need to understand the massive amounts of data to make high risk decisions also rises. Our business intelligence services aims to provide you with better decision-making tools and gives you the information and knowledge which is most relevant to your needs. Our strategies offer frameworks which will enable you to handle your business goals efficiently and also help you evaluate your course of action.
Enaviya's BI solutions offer integrated, strong and flexible services with which you can make better and faster decisions keeping the ever-changing business context in mind. Our services work towards cutting costs and improving your profit margins just by knowing what to do, and exactly when to do it.
Business Intelligence Solutions
Enaviya's Business Intelligence offers its services on the following six practices:
Business Performance Management :Businesses always strive to keep up with trends be it current trends or emerging ones. Business performance management help you plan strategies to gain valuable insights about your company so that you can plan ahead and procure the best industry opportunities. BPM organises and assists managers and ensures that the right event happens at the right time thereby helping your company achieve operational excellence.
Enaviya's business performance management services cover every aspect of your organisation in the most cost-effective manner and transform it into a more market-centred, efficient and competitive organisation.
Analytics :Business analytics deals with complex statistical analysis, computational modelling and data mining. All these help your organisation provide believable results in today's challenging economic state. Analytics help you bring forward the untapped potential of your workforce and leads your business ahead while constantly improving the marketability of your company.
Enaviya's business analytics provides you the assistance in corporate recruitments, proficiency mapping and market research among other verticals so that you can find answers to any problem effectively. Our analytics makes visualising the operation and growth of the business a breeze. This way, you develop a clear, strategic plan which will help you serve your clients more efficiently and seize new opportunities.
Data Mining :Imagine a scenario where your business itself gives you pointers to improve its profitability. Data mining does exactly that. Data mining helps managers visualise the business efficiency with the market perspective. It can detect market trends and develop smarter marketing strategies based on that, thus improving your company's global visibility exponentially.
Enaviya's data mining services are remarkable in depth analysis to discover significant facts, figures and trends enabling you to make better business decisions. It also helps you find out patterns, anomalies and even exceptions of your competitors. This data can help you understand the market so that you can tweak your practices to improve profitability.
Benchmarking :During mass production processes, one might wonder, ?Is the manufacturing process competent?? Benchmarking provides you with the answer to the question so you can make the necessary changes before you run into undesirable incidents. This facilitates you with an easier analysis of the current market demands and trends and thereby ensures higher efficiency and productivity of your company.
At Enaviya, benchmarking is considered to be one of the strong attributes to influence business development. We use various techniques which compare and evaluate methods to obtain the best process improvement plan for your company. This plan will help you maximise your teams productivity and fast forward your company's growth.
Predictive Analytics :Predictive Analytics predicts changes in business processes by analysing recorded data collected from various parameters of the current and historical facts of the organisational structure.
Enaviya's predictive analysis tool considers even the most diminutive parameters to provide results to predict the market trends. Our services help your business optimise your marketability to increase the customer base. It predicts the behaviour of the customer with respect to the market so that when the time comes, your company can provide suitable solutions to them.
Process Mining :Nothing is set in stone; every process has the potential to change and a scope for improvement. Process mining bridges the gap between business process modelling and business intelligence. It involves searching and analysing critical information by creating dynamic tables. These findings help you compare and develop process models which will give you valuable insights on the workings of your enterprise. Armed with this knowledge, your business processes will evolve and automatically be more efficient and cost- effective.
Enaviya's process mining service covers all the parameters which are required for a smooth working of an organisation. Process mining techniques help you utilize your organisation's data optimally so that you can detect execution problems and plan process models accordingly. It analyses your plans and strategies to provide you with data which gives you a clear vision of the needs, requirements and also the scope of growth of your company. This practice gives you an edge over your competitor and develops your marketability quotient.