Android Mobile Application Development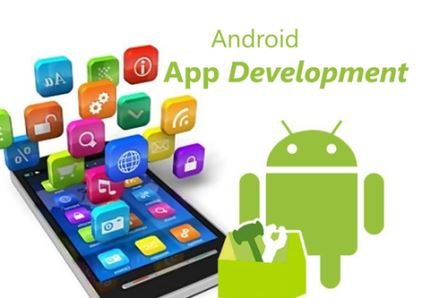 As we are worldwide professional Android developers working and understand our responsibility to provide commendable Android App Development Services. Our android developer's team give creative inputs, smooth activities on app and fluent user flows. Our code will be protected with security features with clear application fundamentals and best to develop customizing Android app design and development for industries.
Our Android apps development suite executes practices effectively and ensures a high quality output at a reasonable rate so that the businesses experience a faster turnaround and exponentially improves their performance.
Services in Android App Development
Our innovative mobile android app development team always focuses on providing technical excellence, feature – rich functionality and state of art UI with backed effectively to their clients which would boost their business value. We have a rich experience in offering streamlined and customisable apps to a diverse landscape to help consumers achieve their goals.
Android UI/UX Design
Our creative mobile UI/UX designer providing stimulating design, best user experience and seamlessly functional that will solve business objective.
Android Game Development
Our technically strong android developers are expertise in 2D, 3D game development provide rich user interface, high-end programing, user experience designs and animation effects based on the exact clients need.
Android Wear App Development
We develop wearable application in Android platform offers innovative solutions across a wide range including fitness, lifestyle, utility and entertainment.
Enterprise Android Apps
Our enterprise Android app development services provide company the most appropriate solution to manage process through a single android application.
Android App Integration
Our specialize in migration and application integration services offers high performance and user experience that help organization to achieve real time process with any third-party enterprise application.
Custom Android Apps Development
We deliver custom tailored application helps organization to implement a successful strategy in great workflow and increase productivity in trusted framework.
Android Safety Management Application
Android safety management application services provide the awareness on the time of critical situation that make it easy to audit, monitor, investigate and generate reports for take the critical business decision.
Application Upgrade and Maintenance
Our Android application upgrade and maintenance services offers keep on improving the functionality, bug fixing, security advancement and latest upgrade.
Android Application Testing Solutions
Our highly skilled QA and Testing engineers provide complete android application testing strategy that offering efficient and reliable solutions.
Ensure application quality
Enhance Customer experience
Bug and error free Application
App submission to the Google Play store
Hire Android Developers for customized Android app development
1) Android Native App Development:Our Android developers in-house take advantage of all Android app functionalities. Native Android device development service exists with a whole application written in the programming language unique to Android. The applications develop using smartphone's core features including contacts, address book, camera, GPS etc.
2) Android Hybrid Apps Development:Hybrid app is basic web technologies such as Javascript, CSS, and HTML5 which can be executed on several platforms irrespective of platform & OS to run a single code base application
Our Major Industry on Android App Development
Our professionals have developed applications for different industries, allowing effective use of the vast reach of android.
Educational Apps
Real Estate Apps
Entertainment Apps
E-Commerce Apps
Geo Location-enabled Apps
Social Networking Apps
Healthcare Apps
Banking Apps
`
On-demand Apps
Our Android App development Process
1. Scope Requirement, gathering of data: Our android consultant always keeps you in loop to refine the concept and the mobile device strategy to make it more successful, discuss the concept of the android app, build technical requirements, software design, evaluate and study on similar apps in app stores and finalize the milestone process.
2. Android App Design process: Our experience mobile app designer builds best mobile UI design style, create wireframes and responsive for any mobile device.
3. Android app development process:Android application developer will do the coding of app mechanics base, do the unit testing and finish the integration.
4. Final Delivery:Our manual and automated testing team will make sure and do the performance and quality testing and submission of app into mobile app market and store.
5. Regular Updates & Maintenace: As things change very quickly, we keep doing software update and bug fixes.
Why Choose Enaviya for Android apps development?
We at Enaviya, design, develop, test and expand android application as per your requirement. Our dedicated android development team provide end-to-end custom services of hybrid and native app for the android mobile phone, tablets and wearable devices.
Android App Consultation
We have professional software developers who will meet with you to discuss your questions and project needs. Our experts will answer any questions you may have about your project or suggestion of improvement.
A team of Experienced Android Developers
1000+ Android app development has been successfully delivered to client across all industries
Flexible Hiring Models
We allowing you to recruit Android developers on an hourly and fixed price to meet different job needs
Bug-free Apps
We always build Bug-free application which code is clean and optimized.
100% Confidentiality Assurance
We stick to a privacy policy that guarantees 100% confidentiality and quality assurance.
Affordable Price
The best prices on the market are guaranteed, without sacrificing quality in any way.
100% Transparency
We believe in total accountability with our customers, so we keep them updated over the entire development process.
Technical Support after Delivery
We ensure our clients do not face any problems so provide assistance after some period of time the project has been delivered.
Frequently Asked Questions
What are the different types of mobile apps you can develop?
We build mobile applications of all platforms (Android, iOS, Window) including Native Apps development, mobile-web apps, hybrid apps and cross-platform apps development.
What are the general mobile app development processes you follow?
Every mobile application development requires a fresh approach. Common phases in our app development process are Analysing Requirements, Wireframing & Designing, Development, Testing, Deployment, Support and Maintenance.
Do you build web applications too?
Yes, we are expertise in powerful web application design & development services. Web-based application requires to power mobile app.
How do you take care of data security of app?
We know all those loose ends that cause security breaches / data theft and therefore use the following things to make each app secure by using authentication token system so that input and output are not hacked during data transmission and sensitive data encryption to ensure data storage.
What types of industries you have served?
We have catered to the needs of business owners from industries like eCommerce, education, finance, healthcare, media, Oil & Gas and Mining, automobile, retail and many others.
How long have you been providing mobile app development services?
We, at Enaviya, have been providing mobile app development services since the year 2008.
Do you provide maintenance services?
At Enaviya, We are known for providing complete-cycle solutions. We will be with you at all levels, from conceptualization to post-sale support and maintenance, to ensure that your app is bug-free and stays that way in the future.
How will I know about the status of my project?
Each of our development projects for apps is assigned to an accomplished project manager. During the working hours our consultant remains in touch with our customers via phone, Skype or email and serves as a single point of contact to remind our customers about the progress of their projects.
Could you help in launching and Marketing Application?
We have experts digital team who are specialized in marketing and application submission processes, and will direct you seamlessly through the entire process. They will use both official and unofficial app stores, in-app advertisements, targeted advertising through social networking sites, analytics software, and a number of other strategies to promote the app.