Microsoft SharePoint Custom Solutions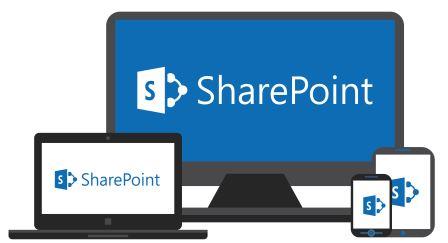 Among technologies, SharePoint custom software is typically required by all organizations as a collaborative platform that helps in synchronized sharing of information via employees' PCs.
With a perfect blend of technology and process, we aim to deliver best business solutions. The wide portal of SharePoint is configured to integrate, collect, administer, and distribute the information efficiently giving you higher productivity and intelligent outputs.
SharePoint Development Focus Areas
Our SharePoint custom software services you can get the best of both worlds - speed and productivity for your users with flexibility and control through modernize & improving speed, scale, and enabling user experience.
Mobile Experiences
Personalized Insights
People-centric file storage and Collaboration
Cloud-Inspired Infrastructure
performance and Reliability
Hybrid Cloud with Global Reach
Support and Monitoring
Data Security
Reporting and Analytics
Trusted Platform
SharePoint Development Services
As a SharePoint development company, our highly experienced developers build web portals, web application, and intranet with content management, support & maintenance. Our SharePoint consulting services involve of business analysis, technical consultants, SharePoint architecture design, SharePoint development and deployment.

SharePoint Application Development
We have successfully build custom SharePoint applications to global customers for various industries that meet the business needs of today and tomorrow.

SharePoint Office 365 Services
Our Microsoft SharePoint office 365 cloud based services help your organization to enhance digital environment with advanced features with robust security.

Enterprise Content Management (ECM)
Our Enterprise Content Management (ECM) Solutions provide structural, effectively managed automated business process, secure file sharing, access information quickly and paperless transparent business process .

Custom Business Workflow Development
We streamline business manual process, collaboration and improve productivity by creating automated workflow and custom form in SharePoint and office 365.

SharePoint Integration/Collaboration Services
We highly qualified developers provide innovative SharePoint collaboration services solution for linking and synchronizing data through portals between online and on-site SharePoint services. Also various data formats may be shared seamlessly between clouds and multiple systems.

SharePoint Branding & Customization
Our professional SharePoint designer analyses the business needs and designs appealing visual design, simple navigation that is compatible with mobile devices and desktop.

SharePoint Upgrade/Migration
We help organizations to successfully move/upgrade web apps, workflow to SharePoint 2016 or SharePoint 2019. We also ensure that services are smooth and cost efficient.

Corporate SharePoint Portal Design & Development
We design and develop enterprise custom intranet or extranet portal that enables rich features such as information search, post/edit news, share knowledge, video and document.

SharePoint Site Provisioning Solutions
We develop user interface for user to create and edit template, integration of date quickly and securely without administrator's approval.

SharePoint BI Report & Dashboard
We streamlined BI Strategy to create/access customize report, centralize dashboard and scorecard from multiple data or online services.

SharePoint Support and Timely Maintenance
Our SharePoint support and maintenance services ensure application improvement, maintain security, maximize performance, fixed code errors, resetting permission and resolving configuration features.

SharePoint Consulting and Advisory
Our SharePoint consultant is technical experts who guide you to challenges of technical complexities in Application development, Architecure Design, Migration and Office 365 implementation.
SharePoint Expertise in Software Development
SharePoint 2019/16/13
SharePoint Online ( Office 365)
SharePoint Application
Power BI on SharePoint
Window Azure
One Drive
Our Quality Priority of SharePoint Development
User Satisfaction: Our appealing design & development services focus to deliver best set of software features with user adoption and satisfaction.

Stable Performance: Our highly experience developers build architectures of customise SharePoint solution to revamp the application performance and fix issues, if any.

Security: We enable SharePoint security mechanisms and administration capabilities to ensure corporate data protection and system collaboration.

Compliance: Our office 365 deployment and SharePoint software development line up organizational protocols and industry standard regulation.
Why SharePoint Software Services with Us?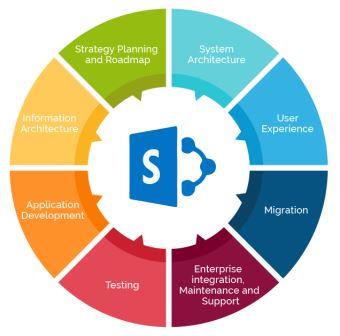 Microsoft Certified Partner
Global provider of custom SharePoint solutions or even upgrading SharePoint application to the latest version.
Thinking of every SharePoint aspect such as Usability, Performance, and Security.
Innovative in providing unique SharePoint business solutions
We possess a dedicated and experience SharePoint team to assist you in every stage of the implementation process. SharePoint software services provide excellent delivery in executing various SharePoint projects of different sizes.
We, at Enaviya, provide an advanced strategy that addresses all factors related to the SharePoint.
We ensure that our commitment in offering SharePoint solutions help the businesses to derive maximum benefits and value.