Reverse Online Auction Software
Implementation of a reverse auction tool itself has numerous advantages. EnavAuction is designed to revolutionise the reverse auction process by providing complete transparency and control, and enhanced security features that can prevent the occurrence of fraudulent bids.
Reverse Auction (Buyer) Software Feature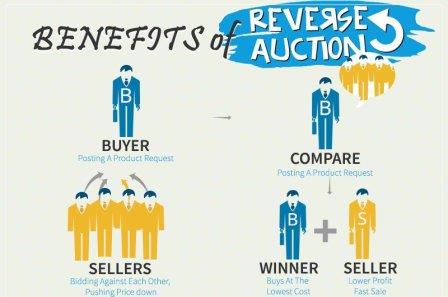 Provides market transparency which reveals the true market price of the service or product.
The software reduces human-prone error since the entire process is automated. The ability to run preliminary price rounds and the ease of online editing help narrow down on errors before the auction commences.
The buyer can gain knowledge of the price and quality of similar products as all the bids are submitted in a common format contained within a single tool.
Allows the buyer to tap into the global supplier base, including the suppliers in low cost countries thus enabling him to obtain the best price and quality for his requirement.
Simplifies bid collection and bid comparison and centralises all the data for easy query and display.
The buyer can narrow in on a vendor in hours thus allowing the company to spend more time on other high value activities such as spend analysis, strategic sourcing and award optimization. The process is highly efficient when compared to the traditional offline process.
Successful reverse auctions immediately reduce the cost of acquisition (that would otherwise be paid) for each item successfully auctioned.
In a forward auction environment through EnavAuction, the buyer has certain advantages that can prove to be beneficial for him during the decision making phase.
Smart investments can be made as goods can be purchased at market prices through competitive bidding.
At EnavAuction, the buyer knows that the seller is bound to sell the product. All he has to do is outbid the highest bidder.
Auctions reduce time to purchase and eliminate long negotiation periods
The price is determined by the buyers and not the seller. Hence the buyer is paying for the price decided by the demand owing to high quality of the product.