Incident Management Software Solutions
Our domain expertise in Incident Management Software solution that helped our clients to reduce cost for working alongside service desk, mobile device provide a automated system to real-time prioritize, better control to increase team collaboration and efficiency.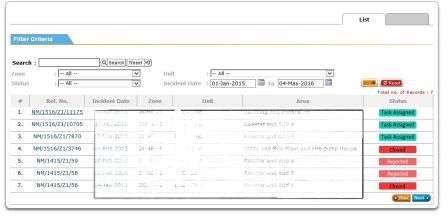 Industry type:Oil, Gas and Mining
Technology:.NET/SharePoint
Scope of the Project
Powerful Incident Management Software solution provide a system for your service that integrated mobile app & web software to empower employee the report dangerous situations and accidents directly to central system and automated Email/SMS to safety department & Management.
Investigations team will submit the report like chronology, risk level, fact, Key factor; investigation findings and recommendation with attachment of relevant photos. Once report is verified by the head, email/SMS will be triggered to the respective employee/user.
Incident Management Software featured following business operation:
Dashboard for Monitor and prompt staff alert notification of incidents
Collaboration tools and integrates with team to notify responsible parties
Standardized workflow to track/report of pending verification and closer for handling incidents
Frequently Asked Questions
What is the goal of Incident Management Software?
Incident management system make sure quality/policy is maintained and reducing impact on business operations until service is restored and the issue is resolved. Reports are used to monitor, track, and analyse service levels and improvement. Our incident management process includes incident identification, incident prioritization, incident assignment, initial diagnosis and incident resolution.
What is an EHS software system and why is it important in an organization?
Environment, Health and Safety (EHS) software maintain a safe workplace, policy compliance and protect the health of employees. Our software system is web based solution enabling to save time, money and improve your employee wellbeing with mobile capabilities.
How does Incident software help my company?
Structures for incident management applications simplify regulatory compliance by digitizing inspection processes and giving real-time insights and performance analytics.