Incident Management Software Solutions
Our domain expertise in Incident Management Software solution that helped our clients to reduce cost for working alongside service desk, mobile device provide a automated system to real-time prioritize, better control to increase team collaboration and efficiency.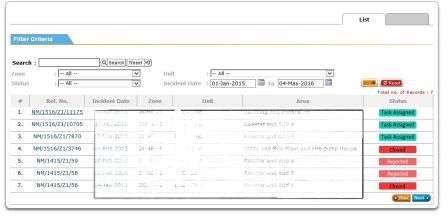 Industry type:Oil, Gas and Mining
Technology:.NET/SharePoint
Scope of the Project
Powerful Incident Management Software solution provide a system for your service that integrated mobile app & web software to empower employee the report dangerous situations and accidents directly to central system and automated Email/SMS to safety department & Management.
Investigations team will submit the report like chronology, risk level, fact, Key factor; investigation findings and recommendation with attachment of relevant photos. Once report is verified by the head, email/SMS will be triggered to the respective employee/user.
Incident Management Software featured following business operation:
Dashboard for Monitor and prompt staff alert notification of incidents
Collaboration tools and integrates with team to notify responsible parties
Standardized workflow to track/report of pending verification and closer for handling incidents