Incident Management Software Solutions
Our domain expertise in Incident Management Software solution that helped our clients to reduce cost for working alongside service desk, mobile device provide a automated system to real-time prioritize, better control to increase team collaboration and efficiency.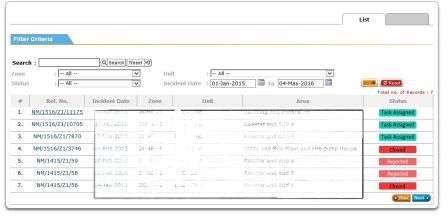 Powerful Incident Management Software solution provide a system for your service that integrated mobile app & web software to empower employee the report dangerous situations and accidents directly to central system and automated Email/SMS to safety department & Management.
Investigations team will submit the report like chronology, risk level, fact, Key factor; investigation findings and recommendation with attachment of relevant photos. Once report is verified by the head, email/SMS will be triggered to the respective employee/user.
Enaviya's Incident Management Software Solutions addresses all of your pain points at once
If your company is facing a problem with managing the same recurring incident over and over again? Look no further; our incident management software automates the workflow of incident management. We offer an end-to-end solution that responds, reports, and investigates digital errors.
With our Enterprise Incident Management software, you can now reduce costs, incidents tracking and reporting is made easy, and incident investigation with safety reporting solutions. Become a part of 100+ businesses who rely on our services and software.
Dashboard for Monitor and prompt staff alert notification of incidents
Collaboration tools and integrates with team to notify responsible parties
Standardized workflow to track/report of pending verification and closer for handling incidents
Incident Management Software Features that works best for your Organization
Incident Management
With incident management, you can report and resolve any number of incident types with configurable fields and workflows to protect your workplace. It also centralizes and simplifies by providing a framework for tracking context, consistency, and continuous improvement to handling incidents.
Near-Miss
Our Near-Miss management system serves the purpose. It provides a systematic approach for managing incidents. It lays a flexible and standardized method for incident management practices, emphasizing common principles, a consistent approach to operational structures, and an integrated approach to resource management.
Root Cause Analysis
We provide a web-based Root Cause Analysis software that identifies and reports information immediately when an incident occurs and helps simplify the complete incident life-cycle to closure.
CAPA
CAPA (Corrective and preventive actions) systematically analyzes to manage the corrective and preventive action processes effectively. CAPA helps you standardize the process by defining and implementing the action plan.
CAPA Audit
With CAPA Audit, organizations can identify and assess opportunity risk while tracking performance and areas for improvement. It's time to standardize and automate audit planning by defining risks.
Safety Analytics & Report
Now capture and create incidents reports while eliminating the effort of pushing paperwork and waiting for authorizations. It enables you to report incidents and near-misses from remote locations and take timely action to control company-wide vulnerabilities.