Mobile Application Development
Enaviya is the one of leading mobile application Development Company in India. We have a professional team that is well-experienced in making mobile applications in latest technology. Our mobile app developers use low-risk mobile development methodology, cost-effective that has a proven success record and ensures rapid results and 100% visibility.
We provide an easy-to-use and efficient mobile app solution that focuses on all the quality services dimensions:
Excellent usability: We create mobile experiences that exceed expectations improving customer satisfaction and boosting conversion.
Security & Compliance: You would gain user trust and improved industry-specific security, including data encryption, risk analysis, and so on.
Accelerated Delivery: We build high performance mobile backend, designed smooth and efficient native and hybrid mobile apps.
Cross-Platform Coverage: We ensure the most appropriate coverage of popular mobile platform and technologies for all target audiences.
Mobile Application Development Platforms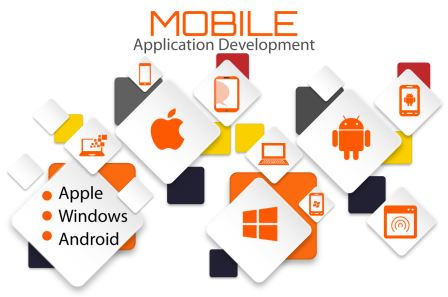 Android Mobile Apps Development Services: We provide solutions for the creation of android apps to companies around the globe and help turn the business in terms of functionality, efficiency and aesthetics through Mobile device solutions to create more business space.
iPhone/iPad Mobile Apps Development Services: Our in-depth knowledge of mobile application development process and specialize in developing innovative and robust iPhone/iPad applications to diversified business verticals.
Windows Mobile Apps Development Services: We designed and developed Windows mobile applications and have always been known for delivering unmatched mobile solutions. Windows Mobile application developers are experienced in porting / migrating Windows Mobile apps to other platforms.
BlackBerry Mobile Apps Development Services: Enaviya's impressive team of BlackBerry App developers serve the businesses with a range of solutions which are designed to optimize the profitability. We ensure that the software is reliable and versatile so that the specific service features are accessible to the customer .
HTML5 Apps Designing & Development Services: We design and build multiplatform applications using JavaScript, HTML5 and CSS3 to construct web applications and native mobile applications . HTML5 multi-platform application development is the fastest cost effective solution for porting your apps from iPhone to Android/WebOs/Symbian/Windows Phone 7/Blackberry plus.
Custom Enterprise Mobile Apps Development Services: We have expertise in designing stable, safe, easy to navigate and cost effective custom multi-device mobile applications. Our enterprise mobile applications are designed to save effort, time and money and help to improve business acumen through comprehensive and customized mobile applications.
Native App Development: Our native development services for applications cover the whole process, from product design to submission to the App Store. Project team is made up of mobile specialists who specialize in designing and developing apps and have released successful products for some of the biggest organizations in the world.
Our Mobile App Development Process
Analysis of Requirements: We use cases technology & strategy to evaluate and collect the data required starting mobile app development project.
Wireframing & Designing: First, our team designs the interface structure and wireframes/prototyping each UI and UX screen
Development: Our professional developer coding app, check performance & usability security & network response, platform, device and browser then get input from the client
Testing: We perform manual and automated software testing which should be 100% bug-free. Gain final approval from customer before delivery.
Deployment & Maintain: We upload the mobile app to the server of the client and to the user-accessible app store.
Our Mobile App Development Expertise
Mobile Strategy and Consulting
Build a plan and roadmap for mobile adoption that fulfils your particular objectives.
Mobile Application Integration
Implement a backend integration system that achieves end-to-end, seamless processes
Android and iOS Application Development
Using value-driven approaches and build-by-build processes to develop and design individual Android and iOS apps
Mobile Application Testing
Conducting rigorous manual or automated testing to ensure accurate consistency and efficiency
Cross-Platform App Development
Our qualified cross-platform software developers ensure easy access of mobile app on different platforms
Custom Cloud App Development
We can help you create browser-based, highly scalable cloud-ready architecture, like CRMs and ERPs, to flawlessly deploy it in the public, private, or hybrid world.
Why Choose Enaviya for Mobile App Development?
Enaviya provides a comprehensive list of services with customized applications for BlackBerry, iPhone and various Android powered devices.Provides up-to-date, dynamic and cost effective app development services based on technology trends which are designed to suit every kind of customer demands.Offers capable solutions which can be optimised as per the customer's requirement.
Cost-Effective Solutions: Design strategies that match with customers' monetary needs, we deliver solutions that are beneficial to the company and end-users.
Agile Process: The agile approach, we keep our clients' involvement and flexible planning to create mobile app.
Skilled Developers: We having 8+ years expertise in developing native and hybrid mobile apps for startups and enterprises which includes solutions for Health & Fitness, logistics, education, finance, Oil & gas, Travel & Tourism, retails, Food & Beverages and so on .
Relentless Support: We stay connected with our clients through email, voice, video calls and chats. We offer end-to-end solutions and maintain the transparency.
Frequently Asked Questions
What are the different types of mobile apps you can develop?
We build mobile applications of all platforms (Android, iOS, Window) including Native Apps development, mobile-web apps, hybrid apps and cross-platform apps development.
What are the general mobile app development processes you follow?
Every mobile application development requires a fresh approach. Common phases in our app development process are Analysing Requirements, Wireframing & Designing, Development, Testing, Deployment, Support and Maintenance.
Do you build web applications too?
Yes, we are expertise in powerful web application design & development services. Web-based application requires to power mobile app.
How do you take care of data security of app?
We know all those loose ends that cause security breaches / data theft and therefore use the following things to make each app secure by using authentication token system so that input and output are not hacked during data transmission and sensitive data encryption to ensure data storage.
What types of industries you have served?
We have catered to the needs of business owners from industries like eCommerce, education, finance, healthcare, media, Oil & Gas and Mining, automobile, retail and many others.
How long have you been providing mobile app development services?
We, at Enaviya, have been providing mobile app development services since the year 2008.
Do you provide maintenance services?
At Enaviya, We are known for providing complete-cycle solutions. We will be with you at all levels, from conceptualization to post-sale support and maintenance, to ensure that your app is bug-free and stays that way in the future.
How will I know about the status of my project?
Each of our development projects for apps is assigned to an accomplished project manager. During the working hours he remains in touch with our customers via Skype, email and phone and serves as a single point of contact to remind our customers about the progress of their projects.
Can you help me in marketing and launching my app?
We have experts who are specialized in marketing and submission processes, and will direct you seamlessly through the entire process. They will use both official and unofficial app stores, in-app advertisements, targeted advertising through social networking sites, analytics software, and a number of other strategies to promote the app.