We're a SharePoint service provider based out of India. We help organizations harness the power to get the most value from their SharePoint Office 365 development, often becoming their trusted SharePoint partner. We house a team of SharePoint experts to tailor the platform to your organization's specific requirements, enabling leveraging modern SharePoint benefits.
Enaviya helps your business with all of your SharePoint Office 365 Development needs.
SharePoint Office 365 Development Solutions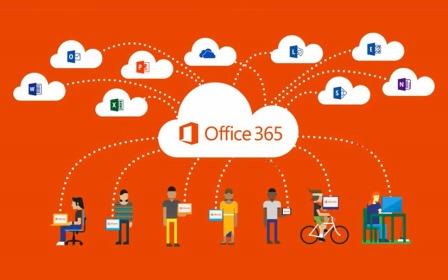 If your organization is looking for developing a new application with SharePoint's unique features or creating custom web parts, and being one of the office 365 developers, Enaviya has the right solutions to extend your brand's capabilities. Microsoft SharePoint Online offers the most efficient and powerful SharePoint features without the associated overhead of self-managing the infrastructure.
With an extensive experience of SharePoint 365 development on hand, Enaviya is one of the market's premium service providers, and using the latest tools and technology; we build your office 365 solutions. With years of hands-on SharePoint consulting and development experience, our specialists know how to successfully leverage the platform's versatility to handle projects of any scale and complexity successfully.
SharePoint can be implemented in the cloud as a standalone offering as a part of Office 365 Suite. A user can also access Exchange, Skype for Business, OneDrive for Business, Office Clients, and Web Applications.
We make sure that our clients obtain maximum benefits of implementing SharePoint Online (On Office 365), which include:
Office 365 Consulting
It's time to revolutionize your business. Enaviya offers comprehensive Managed Office 365 consulting services for all our client's needs. Over the years, we have helped small and medium-size companies across various industries with their software and innovation needs.
Office 365 Implementation
We define success by helping you choose the right plan for your company and streamline the process for you with timely and smooth Office 365 implementation. We design and execute a complete adoption plan for you at every stage, including deployment, migration, development, and training.
Office 365 Integration
With Office 365 integration, we help streamline business operations, improve real-time efficiencies, and make it better through increased collaboration, engagement, and productivity. We solve complex business challenges through enterprise solutions while unifying the workflow in the process.
Office 365 Support
We are passionate about transforming your tomorrow. Enaviya has the breadth and depth to support customers and help you get the most out of their technology investments. We offer proactive support to minimize risk, downtime, and reduce support costs.
Office 365 Managed Services
Housing a dedicated team of experts with years of experience, Enaviya offers Office 365 Managed services to businesses to ensure operability, stability, and cost-efficiency to make your business future-ready.
Office 365 Customization
With Office 365 Customization services, we help organizations with a technical understanding of Office 365 to deliver customizations that turn the base product into the business's solution. With these, companies can lower the total cost of ownership via manage and maintenance costs.
Office 365 Migration
With our Office 365 Migration services, companies never have to worry about migrating or upgrading to new versions. We have all the tools with the best practices and expertise to make your Office 365 Migration seamless.
What makes Enaviya Unique in Office 365 Development?
Increased Productivity
Sharepoint boosts the productivity of workflow processes by streamlining daily tasks.Implementing the Office 365 business feature provides the best in class security for building enterprise software and online services.
Custom Development
With out-of-the-box customization features, we offer custom tools both on-premises and in the cloud, which helps to manage the platform with your business needs
Turn-key Solutions
We provide turn-key solutions to enhance collaborative workspaces and features to maintain seamless and continuous operation with high performance
Enterprise compliance
The scalable solution meets security and compliance requirements by ensuring unified policies applied across workload and every device.
Timely Maintenance
Once the project is completed, all-inclusive support services are provided to ensure high security and performance of your SharePoint solution.
Speed and Efficiency
Our SharePoint developer expertise in faster execution makes your business objectives get accomplished quickly and smoothly.
Enhanced Security
Data safety is our No. 1 priority; timely updates and improvements make it safe and reliable.
Time and Cost-Effective
Rely upon our skilled resources, and this results in cost-cutting in time and business costs.
Frequently Asked Questions
What is the difference between Office 365 and SharePoint?
SharePoint is an intranet cloud-based system that integrates functions such as collaboration, CMS, and dashboards. Office 365 offers you access to Microsoft Office products such as word, excel, and PowerPoint on any platform from anywhere.
Can I use SharePoint designer with Office 365?
Yes, SharePoint Designer is software for designing websites and applications used to create and configure SharePoint pages. SharePoint Model 2013/2016 operates on a SharePoint basis.
How can office 365 help my business?
Office 365 is an online version of Microsoft's Desktop Suite operating on a cloud-based subscription. It comes with a range of features and benefits that can support your company with such items as Anywhere Access, Teamwork and Collaboration, Simple Integration with Other Apps, Advanced Analytical Tools, and MS Exchange Email Hosting service.
Does office 365 support domain-based email addresses?
To build domain specific email addresses, you can add the domain name that you own to Office 365.
What is Office 365? How is it different from Microsoft Office?
Office 365 is a subscription-based service made available by Microsoft to support individuals and small and medium-sized enterprises. Microsoft office is a Microsoft desktop office suite of several software / tools that can be installed on your Laptop or workstation on a one-off basis.