Microsoft NET Integration Services
Microsoft .NET projects have delivered a number of .NET projects globally due to our skilled .NET workforce using cutting edge technologies. Enterprise restructuring methodologies integrate IT process across the organization's departments.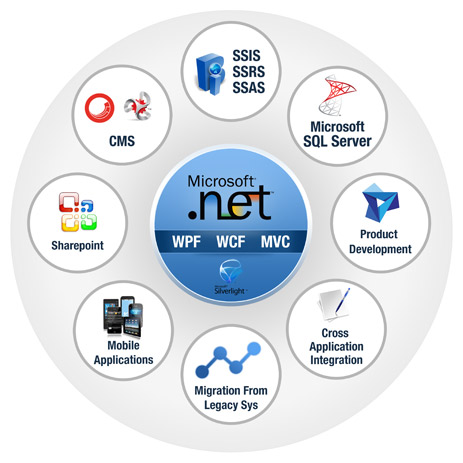 Many businesses operate on many factors, and one of the biggest services is a fragmented ecosystem. CRM, ERP, social media, or proprietary software can be linked together with our third party application integration services that use the WCF framework. We provide you with database integration, reducing the need to switch entire databases which would be expensive. We integrate crucial business applications consistently with variety of platforms using leading processes, tools and technologies.
Applications hosted in a house- in addition to an external system can communicate together, allowing business to quickly meet their unique business needs through specialized solutions.
Benefits of Integration
Sharing of Data - Integration ensures consistency of data across teams and departments, simplifies processes, and entitle employees with a comprehensive, accurate view of customer information.
Web services - With the Microsoft .NET technologies any types of system can be combined with business and financial system regardless of platform or programming language.
Microsoft .NET can make the most use of Microsoft BizTalk Server for creating customized integrations with third party applications and web services.
We provide the following beneficial in Microsoft NET Integration services namely:
Platform integration through SOA's or web Services
Integration with Back-end Databases
Active Integration and Process Application Integration
Enterprise Application Integration Services
We provide our valued services in .NET Integration Services, which includes