Travel & Expense Management Software
Expense Management System [EnavExpense] is a solution to streamline and automate the submission and approval of multiple expenses and expense types. Expenses include travel, lodging, car rentals, meals and so on.Travel & Expense Management System [Enavtravel] focuses on restructuring company's travel expense to cut losses and maximise profits.
EnavExpense is an enhanced resource for companies looking for asolution for managing travel expenses. EnavExpense is part of the total expense management offered by Enaviya. When it comes to our trade, Travel and Expense software system outclass its competitors through its clear cut uniqueness and efficacy. Travel and Expense Management is exhaustively equipped to put you in control of overheads bringing about a healthy bottom line, here's why?
Business Travel & Expense Management Solutions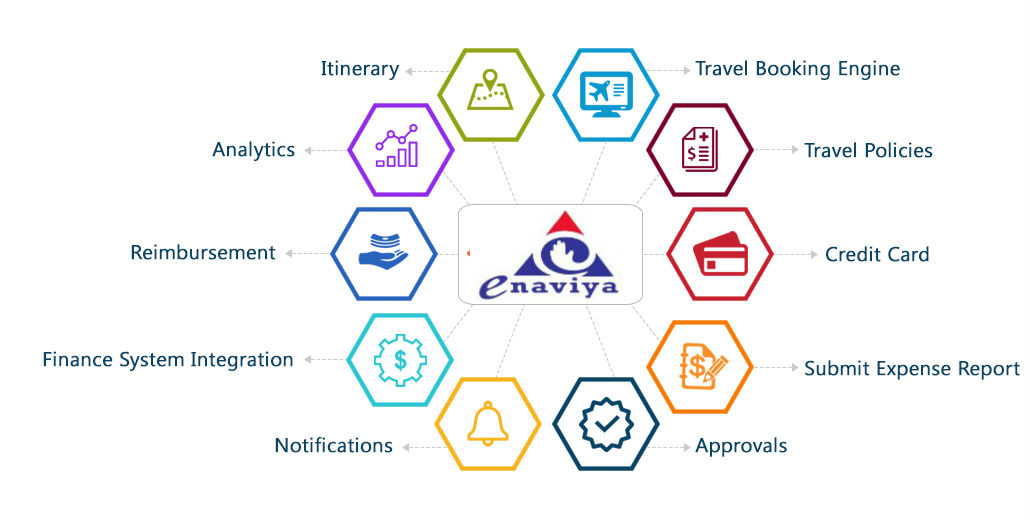 Travel & Expense Management System is designed to keep your business one step ahead at all times. We've specifically designed a few special extra modules all integrated in EnavExpense, keeping your needs in mind. Travel & Expense Software never got simpler, need we say more? Have a look:
Features of Travel & Expense System
Easy Plan Corporate/Business Travel
Configurable Travel Expense Approval Workflow
Detailed Travel Expense Reports/Claims
Easy Expense Reimbursement Procedure
Complete Auditing of Travel Expense Claims
GST Module for Expense Claims
Travel Expense Policies Module
Seamless Credit Card Integration
Automated Travel Expense Policy based Reimbursement
Integrated Travel Expenses Billing
Global Deployment
Integrated Travel & Expense Management Software
Comprehensive integrated features to organise the procedure, task based program for business travelers/trips to provide simplicity and not miss on in-depth process detail, designed to keep the right money at the right place at the right time. Travel & Expense Management can mould itself around your company and deal business exactly as you would. With Enaviya EnavExpense, your company's travel expense management is in safe hands, read on.